Crooning on my STEREO:
Chan Chan by BUENA VISTA SOCIAL CLUB
I don't care if you are underaged or overaged, as long as you don't try this at home or, rather... on your motorbike.
My friend sent me both this image and its text for a worthwhile comic relief.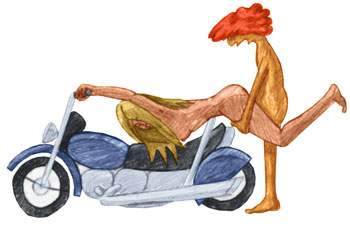 Here's the descriptive text which follows (in white) and my commentary in (violet)
"This stationary position utilizes almost the entire length of the motorcycle. (okay...let's assume it as a fucking UNCOMFORTABLE 'bed') The easiest way to get into this position is for the woman to seat herself on the bike and lean forward so she is grasping the handlebars. (SO.... is the motorbike in motion?? Doesn't that induce a frigging sprain on her spinal cord?? Damn..LUST is DANGEROUS stuff....) If the bike is too long, or she's too short, she can wrap her arms around the gas tank.(WHAT??? DID YOU SAY GAS TANK???) The man, standing behind the bike, reaches on either side, picks up her legs, and extends them backward over the end of the motorcycle. (PHWOAR! You need to be a bloody agile acrobat to do this. Even a novice could break either one of her limbs)As he supports her back end by holding her legs up wheelbarrow style, he fucks her from behind.(Okayyyy.... so the guy happily screws her from behind, and poor girl hangs on to the rickety bike for dear life. What PASSIONATE lovemaking.)
This position can be a big turn on for both male and female motorcycle enthusiasts.(Sure, ask Valentino Rossi for more details.) The woman will get off from having almost full body contact with the bike and having her face pressed into the seat leather, while the guy will almost feel like he is fucking the bike itself."(End result: Girl is more likely to suffocate to death, courtesy of the 'seat leather.' Guy is better off fucking the bike's exhaust pipe as to avoid messy casualities........ hold on, do guys really do get aroused by automative vehicles?? )
What the hell... this is disturbing shit.
For more ridiculous sex positions, consult films by Tinto Brass